EXPERT CRATING SOLUTIONS
Experienced Crating Services in Philadelphia
Whether your items are heavy, high-value, unique, or fragile, Craters & Freighters Philadelphia offers crating and packaging solutions customized to meet their needs. Most packing and shipping companies have size and weight restrictions. Not us. We'll crate and ship virtually anything virtually anywhere.
Our Philadelphia team of crating, packing, and shipping experts design and build custom crates that move and ship even the most fragile items securely, arriving at their destination free of damage.
Every crate is built to strict codes from the inside out, taking into account the appropriate measurements and weight, value, fragility, and final destination, ensuring safe and successful transport.  Each individual crate is optimized for each individual item. 
Crating with Care
At Craters & Freighters, we do not believe in one-size-fits-all crating solutions. The more closely a crate matches the size and shape of an item, the more secure that item will be.
That's why we design and build the perfect crate ourselves. We also tailor our blocking, bracing, and padding schemes to ensure maximum protection. This is paramount to any successful crating and shipping project.  Every crating project is different and it takes both experience and a sharp eye to finish the job with precision.  Our Philadelphia crating team knows how to perfectly outfit every wooden crate to meet the demands of the shipment, including the protection on the inside.  
We provide stellar comprehensive crating solutions, surpassing all general requirements no matter how big, heavy, fragile, or dangerous the items to be crated are.  Always keeping safety, compliance, and customer satisfaction at the forefront.  
Our customers will tell you that our attention to detail is what enables their items to get to their destination safely and free of damage.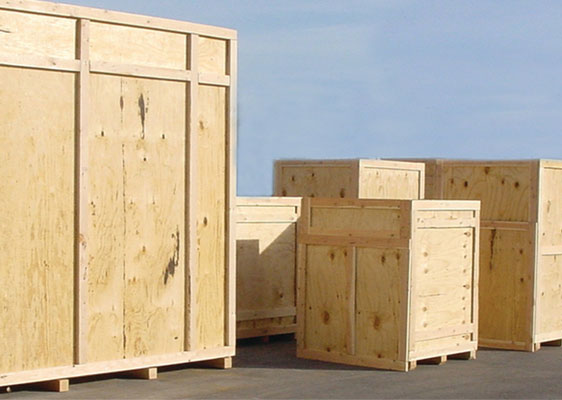 Protection Where It Matters Most
The shipping stream is no place for poorly packaged items. The conditions are challenging, and the handling of crates can be rough. If you want your valuables to arrive undamaged, it takes the kind of unique expertise that we offer.
You can feel confident in knowing that our Philadelphia crating, packing, and shipping experts are leaders in our industry, always providing excellence in service, knowledge, and customer support.  We know exactly how to custom design and build wooden containers and the necessary supporting structures to ensure your belongings arrive safely.
Call us at 215-234-8090 to learn more about your services, including:
Custom Wooden Shipping Crates and Packaging in Philadelphia 
If you're in the market for specialized crating and shipping, Craters & Freighters is your one and only stop.  Heavy, oversized, bulky items are our specialty and no crating project is too challenging.  We offer superior protection when it comes to moving and transporting your valuable items.  Our team will design and build the ultimate wooden container and all of the support it needs to ensure safe transport- domestic or international. 
Each crate is designed to perfectly fit the individual item being shipped using a variety of factors including size, weight, and final destination.  Our goal is for every shipment to arrive safely and unharmed. 
We're experts in the creation of ideal container styles, the design of internal blocking and bracing structures, and securement methods for any item.  We will help you find the optimal enclosure for whatever you need to crate and ship
We Offer On-Site Packaging and Crating Services in Philadelphia, PA, and the Surrounding Areas
If your items are too heavy, oversized, or fragile to get to us, that's not a problem for Craters & Freighters Philadelphia, we'll come to you.  We have everything we need to design and build the perfect custom wooden crate for your shipment- on-site, at your location.  Call us and let our team come to your business or residence and get started on your secure transport, providing the necessary cushioning, stabilizers, and wooden shipping containers for an effective shipment. 
Looking to have a custom crate built and dropped off at your doorstep?  We do that, too.  If you're in need of a crate to simplify your move or storing needs, we can handle that.  Call us for the details.  
Any Crating and Packing Need Covered
Craters & Freighters are industry leaders and we have years of knowledge and insight behind us.  We want you to feel confident in your crating, packing, and shipping strategy which is why we provide the ultimate in detail, care, and customer service throughout your project.  
Our Philadelphia custom wood crating and shipping services are top-of-the-line and our team of experts is unmatched.  Call us today and let's get your shipment moving.
Get a fast, free, no-obligation cost estimate from Craters & Freighters Philadelphia & Perkiomenville, PA.
Provide some information on your shipping, packaging, and crating needs and we'll get back to you right away with a figure you can use in your shipment planning.